Men who are facing chemotherapy and/or radiation therapy for testicular cancer, transurethral resection of the prostate, vasectomy surgery or who have high risk occupational exposure to toxic substances should consider long-term freezing of sperm as they are at risk for sterilization, reduction in fertility potential or genetic damage. Many men in contact sports and those in military service also choose sperm banking as a means of preserving fatherhood.
The OverNite Male Kit is the original over night sperm collection kit and still the gold standard. Developed by Gail S. Prins and her team at the University of Illinois at Chicago Andrology Lab in 1994 the kit is by far the simplest to use and most secure. Although many have copied the kit, it's important to know that they seldom match the quality and security of the original.
Due to the unique partnership of UIC Andrology Lab and ReproTech, and their commitment and experience in fertility preservation, the OverNite Male Kit is by far the most cost effective and convenient kit to use. When you compare the true costs combined with the level of service, quality of help and the security of ReproTech's storage, there truly is no comparison—and for that reason, no better option to trust your hopes.
How Many Specimens Should be Collected?
Once the need for sperm banking is established by the patient and his physician, the patient contacts ReproTech to order an OverNite Male™ Kit or kits. While the patient will always decide on the number of specimens to cryopreserve, sperm quality and time will often limit the number of kits a patient may use. Ironically, men with lower quality sperm typically collect fewer specimens as they will be used in more advanced procedures. Men with higher quality sperm may want to collect more specimens since they will benefit from less technical and less expensive reproductive procedures to achieve pregnancy.
Keep in mind that with today's advanced reproductive technologies, even one cryopreserved specimen can provide enough sperm for multiple attempts at pregnancy.
Generally 2—3 days sexual abstinence is preferred between collections, thus producing multiple specimens can take up to 2 weeks. However, the collection interval and the number of collections can be adjusted to accommodate physicians who believe this time frame is too lengthy and/or for therapy or surgery which must begin sooner.
Sperm Freezing Success Rates
In general, sperm cells freeze very well. Generally, 40%—60% of sperm retain motility when thawed, depending upon the quality of semen. However, many patients with testicular cancer have reduced sperm count and motility even before therapy. Poor quality specimens do not freeze as well as normal semen samples.
Required Testing
Note: You are required to submit your HIV 1&2 testing results within 90 days to qualify for the standard storage rate. An additional annual storage fee of $138 is assessed for patients who do not forward infectious disease testing and/or who have tested reactive for an infectious disease.
We will accept specimens from patients without Anti-HIV 1&2 (AIDS) testing, however, higher storage fees will apply. We encourage you to have this testing done with a visit to your primary physician.
Note: the above testing is required for Client Depositor sperm banking. The OverNite Male Kit may not be used for Donor sperm banking.
Shipping Information
Please note that all four forms must be completed and returned to ReproTech along with payment prior to the kit being sent.
Kits are sent by FedEx Overnight service Monday through Thursday, when payment is made and all completed forms are received prior to 1pm central time.
Kits may be returned by FedEx Overnight service Monday through Thursday ONLY. PLEASE NOTE THAT KITS CANNOT BE RETURNED FRIDAY FOR SATURDAY DELIVERY.
For most patients, $575.00 covers the first year's costs (including the kit, delivery of the kit to and from you, processing, transfer and storage for the first year with ReproTech).
Laboratory Accreditation
The University of Illinois at Chicago Andrology Laboratory:
Is Health Care Finance Administration approved.
Is College of American Pathologists inspected and accredited.
Has been inspected and is currently certified by CLIA.
Inspected, registered and compliant with the FDA Regulations 21 CFR Part 1271.
Provides all forms of male fertility testing as well as patient sperm banking.
Gail S. Prins, PhD, HCLD, Laboratory Director is certified by the American Assoc of Bioanalysts as a high complexity laboratory director and is a member of the American Association of Tissue Banks, the American Society for Reproductive Medicine, and is Past-President of the American Society of Andrology. Dr. Prins serves as the president of the Society for Basic Urologic Research and an editor for Endocrinology. She recently received the Distinguished Andrologist Award from the American Society of Andrology. She is a full member of the UIC Cancer Center where she serves as the Co-Director of the Prostate Cancer Research Program.
Financial Assistance
Financial Assistance is available for oncology patients through Livestrong's Fertility Discount Program. Please review the application and if you feel you may qualify, please contact LiveSTRONG for details.
Get the Overnite Male Kit!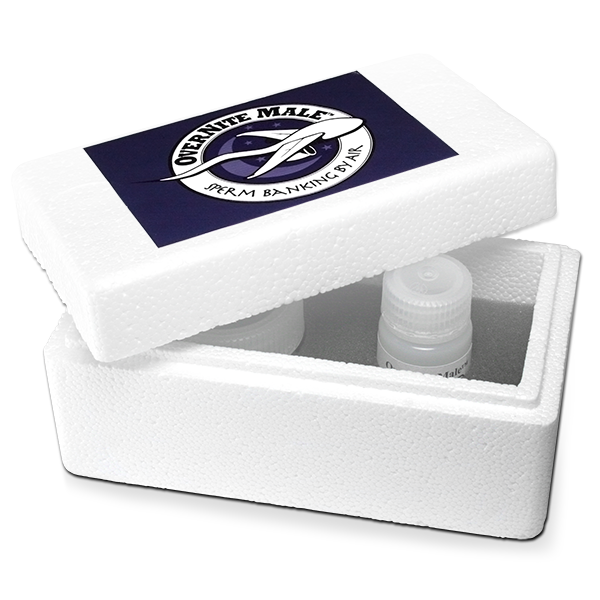 For men seeking to preserve fatherhood, the OverNite Male Kit is by far the most convenient, private and cost-effective method available. Storage provided by ReproTech. The undisputed leader in long-term storage.
Order Now!